Hand Saws
| A bit about my saws: Each plate is cut from coiled 1095 spring steel, ground perfectly flat (or taper ground for panel saws), toothed, hand sharpened, and hammer set. This is all done under one roof. Currently, all backs are folded brass. I've made and used slotted backs in the past...they work fine but I prefer the folded backs for the traditional look and ease of installation. Folded backs will absorb some shock if the saw is dropped (still though, try not to drop it). Everything you see is built from raw stock in my shop. I like the idea of affordable hand saws- no need to drive up prices by outsourcing the parts. This also gives me an in depth understanding of saw making. There is a difference between buying a set of parts for assembly and learning to make all the parts yourself.
Current wait time for saws is three-four weeks. Thanks!
I am holding off on orders for a couple weeks due to some shop renovations. Thanks!

If you want to see the species available for handles, look at the top tabs. Yup, up there in the middle.
Please contact me first before making and international purchase.

20" Panel Saw
Each panel saw is double taper ground under flood coolant. These saws track a line beautifully. Teeth are hand sharpened and hammer set.
20" X 6" Plate (.03")

---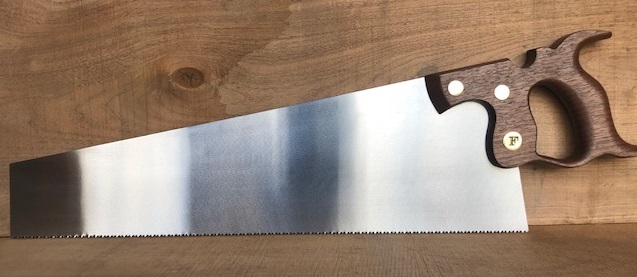 Here is a great workhorse for your shop. Combining an 18" toothline with a taper ground plate provides the woodworker with a nimble/capable saw. Currently, I'll be offering the saw @10ppi with hybrid filing. Whether you're crosscutting or ripping, this saw is up to the task.
---

Of all the saws I make, the halfback is the one I'm asked about the most. Having a short back increases the rigidity of the plate which allows for easier tracking of a layout line. Having over half the plate unsupported allows the saw to make deeper cuts than a traditional backsaw. Aside from being functional- they look awesome.
17" x 6" plate (.032")
7" brass back
Your choice of tooth configuration.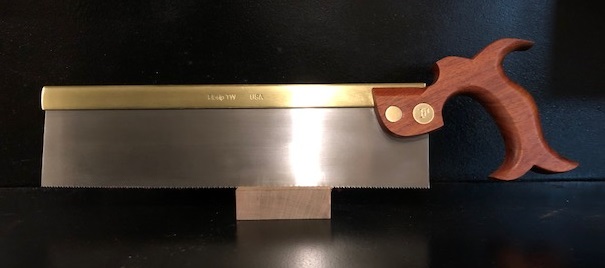 Small Tenon Saw (pictured with granadillo handle)
13ppi rip
12" plate
2 5/8" depth of cut
---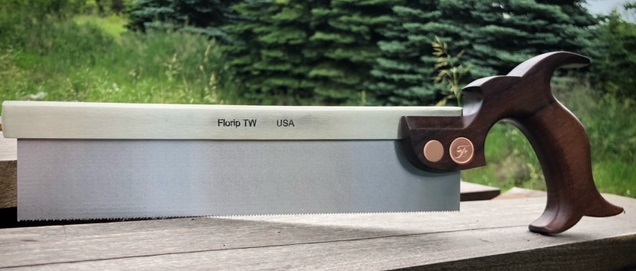 Dovetail Saw (pictured with brown ebony, nickel silver back, and hand engraved copper screws)

16ppi rip
10" plate (.017")
1 5/8" depth of cut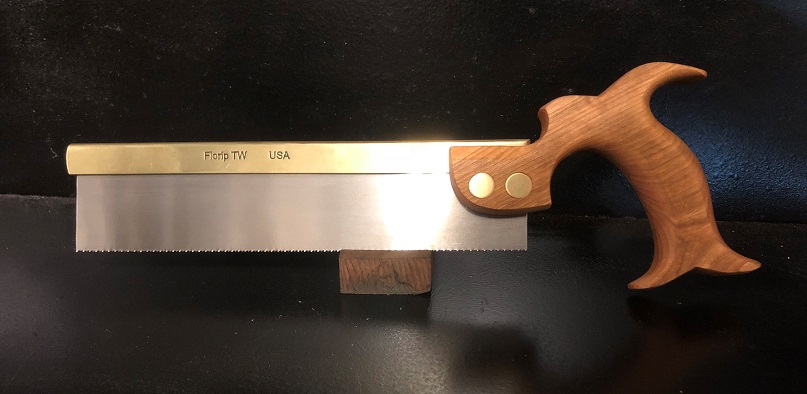 Dovetail Saw (pictured with cherry handle)
16ppi rip
9" plate (.017")
1 5/8" depth of cut
Dovetail Saws
For the finer joinery tasks.
None currently available
---
Small Tenon Saws
None currently available
---
Benchtop Saws
| A handy saw to have close-by. Not built for fine joinery work but great for breaking down stock at the bench. Pulling out the full size panel saw for every wide board won't be necessary with one of these in your lineup. Light, compact, sharp, and cool.
None currently available
---
Sash Saws
Filed hybrid to make a well rounded workhorse.
Saws will be posted as they become available. Thanks!
---
Tenon Saws
None currently available
---
Halfback Saws
Follow your line while cutting your stock to size...and look good while doing it.
---